#WomensCricketMonth: Ellie Threlkeld goes back to school
As part of ECB Women's Big Cricket month Lancashire Women and Thunder cricketer Ellie Threlkeld visited her old school, Rainford High School
Rainford High School is one of three schools currently receiving coaching sessions from Chris Chambers (Women's & Girls' Cricket Development Officer) as part of the Chance to Shine Secondary Schools Girls Programme, which includes curriculum coaching, a leadership programme and an extra-curricular club.
Girls from Year 7, 8 and 9 have all had a taster of cricket which will hopefully result in the girls going down to the local Women's & Girls' section at Rainford Cricket Club. Along with Rainford High School, King David High School and St Peter's High School have also been part of the secondary girls programme.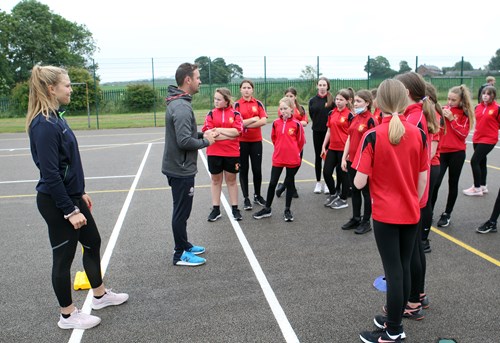 At the moment, there are 14 cricket clubs across the area currently playing softball or hardball cricket across four leagues provided by the Liverpool & District competition. For junior girls, there is a hardball U15 league along with U10 softball festivals which have started this year and saw 10 new teams entered last week at Northern Cricket Club.
Speaking at the event, Ellie Threlkeld said: "It's amazing to see so many girls getting involved in cricket and so many great opportunities being presented to them playing in the Liverpool & District competitions. Our aim is always to inspire the next generation and hopefully provide more opportunities to play and watch women's cricket.
"As well as following my brother to Rainford Cricket Club, cricket started for me here at Rainford High School. It was great to be back there today, seeing lots of different year groups playing cricket and lots of girls enjoying themselves thanks to the Chance to Shine programme."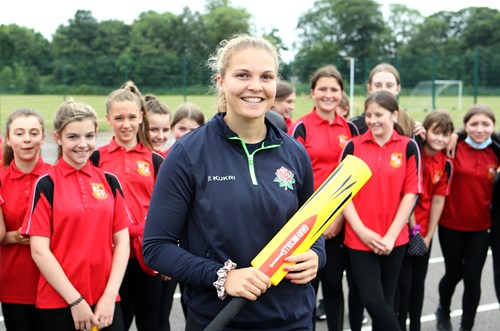 Chris Chambers also added: "Thanks to the Chance to Shine Secondary Girls programme we can provide opportunities for girls of all ages and abilities to play cricket in school.
"We have seen a massive increase in Women's & Girls' cricket in the Merseyside, Wigan and West Lancashire areas and it's good to have a strong partnership with the Liverpool & District Competition to help build on this.
"They are providing a number of different opportunities to play competitive cricket at softball and hardball level. It's great to see so many girls enjoying their cricket and we hope to see them down at a cricket club in the near future."