Lancashire Cricket awarded top international package, including Ashes and New Competition host
Lancashire Cricket Club is delighted to announce that the England and Wales Cricket Board (ECB) has awarded Emirates Old Trafford a prestigious package of international fixtures, including an Ashes Test in 2023, as well as being selected as one of the host venues for the eight team New T20 Competition that starts in 2020.
The new High Profile Match appointment will see more than one million visitors to the ground over the course of 61 days of top level cricket between the years 2020-24, of which the direct economic benefit to Manchester is estimated to be worth over £83 million*.
The economic impact will be wide-ranging, impacting on the city of Manchester and wider North West region, both economically, and by way of inspiring more people to play the game and watch the greatest players from around the world performing at Emirates Old Trafford.
The ECB has confirmed that Emirates Old Trafford will play host to an Ashes Test in 2023, three further Test Matches, five IT20s and one One-Day International and between the years 2020-24.
International Fixtures at Emirates Old Trafford
2020; Pakistan Test Match and Australia International T20
2021; India Test Match and Pakistan International T20
2022; India International T20 and South Africa One-Day International
2023; Australia Test Match and International IT20 (opposition TBC)
2024; Test Match (opposition TBC) and International T20 (opposition TBC)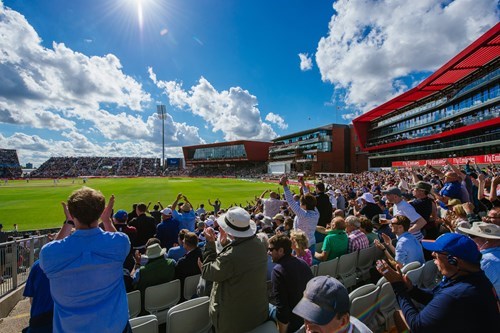 The Club is also very proud that Emirates Old Trafford has been named as one of the eight host venues for the new city T20 competition, which will rival the likes of the Indian Premier League and Australian Big Bash and will start in the summer of 2020.
The competition will see the return of live English cricket to free-to-air television for the first time since the 2005 Ashes and will see domestic cricket return to the BBC including substantial radio and digital rights.
David Hodgkiss OBE, Chairman of Lancashire Cricket Club, said, "We are absolutely delighted to have been awarded this comprehensive package of international matches from 2020-2024 which includes an Ashes Test and a further 56 days of top level cricket, plus being named as a host for the new T20 city competition. It truly shows how Emirates Old Trafford has become one of the leading venues in world cricket.
"As a Club, we are determined to grow the game of cricket across all communities in the county of Lancashire and the North West as a whole, with families and supporters able to watch, at affordable prices, some of the best cricket and greatest players in Manchester over the coming years.
"Emirates Old Trafford has been a Test venue for over 130 years and we are proud of our rich heritage and history in hosting international fixtures. To host the Ashes in 2023, following on from 2019, is one of the 'moments' of cricket both from a playing, watching and hosting perspective, and will enable our vision of re-engaging our core cricket audiences across over 300 clubs in Lancashire, as well as every school in the North West, and attracting new fans through the new T20 tournament."
The home of Lancashire Cricket Club will host Test Matches against Pakistan (2020), India (2021), Australia (2023) and a further Test in 2024 (opposition TBC), International T20s against Australia (2020), Pakistan (2021), India (2022) and two further IT20 fixtures in 2023 and 2024 (both opposition TBC) and a One-Day International against South Africa (2022).
Emirates Old Trafford has undergone a transformational, £60m refurbishment which came to completion after nine years in 2017, including The Point, the Club's award winning conference and events space, the redevelopment of the Pavilion, the start-of-the-art Players and Media Centre and the opening of the four star, 150 bed Hilton Garden Inn.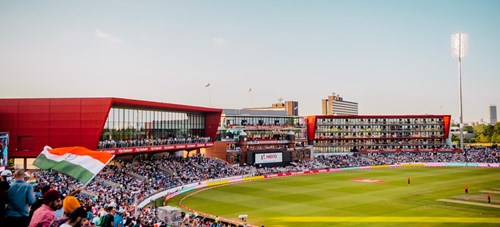 Hodgkiss added, "We are very proud of the continued redevelopment of Emirates Old Trafford over the last 10 years, and in the process, create a long term, robust and sustainable financial business, that allows Lancashire Cricket, and the game as a whole, to flourish and develop across the region.
"The Club is no longer financially reliant on individual days of cricket and this comprehensive allocation of fixtures, along with the new Hilton Garden Inn hotel and a flourishing conference and events business, will see us achieve the aim of financial stability in the coming years and position us to invest more and more in the game throughout the North West year on year."
Theresa Grant, Chief Executive of Trafford Council, said, "Emirates Old Trafford has become the heart of, not just Trafford and the local area, but of the North West, so we are very proud that the Club has been awarded this allocation of international and domestic fixtures over the coming years.
"Lancashire Cricket Club are a key part of the community of Trafford and they continue to make a positive impact within our region.
"Sport is playing such an important role in Manchester and cricket is a crucial element of that. The Club hosting 61 days worth of high profile fixtures between 2020-24 will only be of benefit to the people of Trafford and the local region."
Furthermore, the Mayor of Greater Manchester, Andy Burnham, who has continually supported Lancashire Cricket's bid, commented, "It is brilliant news for Manchester that Emirates Old Trafford has been awarded such a high-profile array of international fixtures up until 2024.
"I grew up watching Lancashire in the County Championship and Sunday League and I still hold a very strong affinity to the Club to this day.
"Emirates Old Trafford is the epicentre of cricket in the north of the England and as the Mayor of Manchester, I am very keen to help develop the game in the North West and continue to inspire the next generation of players and fans.
"The economic and social impact from these major match days will be vital to the city of Manchester and the wider region in terms of how many people it will bring to the city, job creation and the indirect spend from those visitors.
"Manchester is a sporting city and Emirates Old Trafford has become a vital part of that. Everything that the Club is trying to do fits perfectly with the vision of Greater Manchester going forward."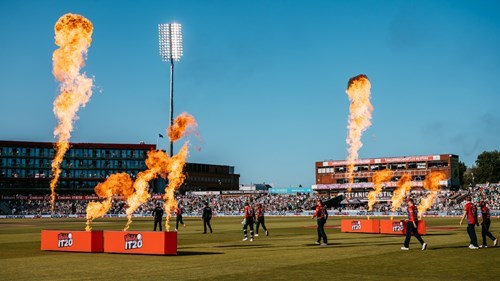 Daniel Gidney, Lancashire's Chief Executive, commented, "This is another historic and memorable day for everyone connected with the Club. The journey that we have gone through from losing Test Match cricket in 2008 to where we are now is phenomenal and testament to the efforts, time and commitment of the Board, the Club and everyone connected with cricket in the North West.
"The T20 Blast has been hugely successful over the last five years, and Emirates Old Trafford has played a role in that, with a record 19,961 crowd in last year's competition against Yorkshire and it is a competition we're still very much supporting."
Sheona Southern, Managing Director of Marketing Manchester, added, "This is fantastic news for Greater Manchester. Emirates Old Trafford is a world class venue designed to host top class cricket.
"Cricket fans and the world's media will be warmly welcomed to an internationally connected stadium, within easy access to over 30,000 hotel bedrooms, as well as some of Greater Manchester's finest bars, restaurants and cultural offerings.
"Marketing Manchester and our partners are hugely excited to work with Lancashire Cricket and the ECB in creating a cricket city that attracts new audiences, inspires future fans and delivers memorable match day experiences.
"Not only is this great news for sports fans it is beneficial for all those working in the tourism economy as it will generate a direct economic impact of £83m over the duration of the five years."
*The EventIMPACT calculator is a resource used by destinations and government bodies to help evaluate the impact of sporting and cultural events.  The tool provides a broad feel for the scale of economic impact an event or series of events might have based on attendance numbers, spectator profile e.g. day or international visitors and their likely direct average spend.