Ticketing Information
You can buy your tickets for International and domestic fixtures at Emirates Old Trafford, the home of Lancashire Cricket Club using our seating guide below - with information on which stand could be best for you.
Take a look through our guide.
How to Book
Tickets for all our home fixtures at Emirates Old Trafford, including international tickets can be bought online from our online store. Alternatively, tickets can be purchased by calling 0161 876 2185*.
To assign contacts details for all your party, follow the steps below when purchasing your tickets:
Login to your online account here
Select your match, seat and number of tickets and select 'Add to Basket'
Check your order and select 'Buy Now'
Select your ticket delivery method
On your order 'Summary', you can assign contacts already linked to your account or add a new contact in the drop down for each ticket
If you want to assign a ticket to an attendee who already has an account, enter their customer or membership number and their surname to add them to your friends and family. If they do not have an account, please complete the new contact form with the attendees first name, last name and email address and press save.
You will then be able to pick the new customer from the dropdown list
Select 'Proceed to Payment' and follow the steps on screen to compete your purchase and ticket assignment
* Calls cost 1.2p per minute from a BT landline, plus phone company's access charge. Other networks and mobiles may vary.
Ticket Office Location
The Ticket Office is located on the corner of Talbot Road and Brian Statham Way, and can only be accessed from the outside of the ground. The Ticket Office is open on matchdays (9am until the start of the second innings), with ticketing services available at the Pavilion reception Monday - Friday (9am - 5pm, excluding bank holidays).
Terms and Conditions
Please visit our terms and conditions page for full details.
Booking Fees for 2024 matches
International ticket booking fees
Phone bookings: £6.00 per ticket
Online bookings: £3.20 per ticket
Domestic ticket booking fees
Phone bookings: £5.00 per ticket
Online bookings: £2.00 per ticket
Ticket dispatch fees
Lancashire Cricket Ticket App: FREE
Ticket Refund Protection
Our ticket protection allows you to re-coup 100% of the paid ticket price (including fulfilment and administration fees) if you are unable to make it to your event for any number of covered reasons, including illness, travel delay, adverse weather conditions and more.
For a worry-free purchase, make sure you protect your tickets. Click here for Terms and Conditions
Transferring tickets and secondary sites
For details around the use of tickets and how they refer to the Ticket Terms and Conditions and Conditions of Entry, please click here.
Frequently Asked Questions (FAQs)
For our ticketing FAQs, please click here. 
Stadium Map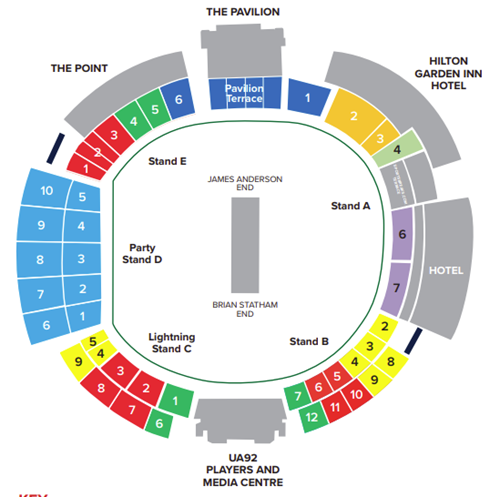 To the view the stadium from a selected seat in 3D please click here.