Player Profile
James Anderson OBE has put his name in the pantheon of great all-time bowlers, mainly through his performances for England but also Lancashire when given the opportunity.
Mid-summer 2020, Jimmy - as he is widely known - became the first fast bowler to reach 600 Test Match wickets. A year later, he claimed his 1,000th first-class victim whilst playing for the Red Rose in a Championship match against Kent at Emirates Old Trafford.
Both were unbelievably special moments and achievements for the Burnley-born quick and all connected with him and Lancashire Cricket. 
The 600 milestone came during the last day of the drawn third Test against Pakistan at Southampton, having Azhar Ali caught at slip to join spinners Muttiah Muralitharan, Shane Warne and Anil Kumble in reaching that mark.
At the time of writing, at the start of 2023, he is sat on 675 Test wickets and shows no signs of slowing up at the age of 40.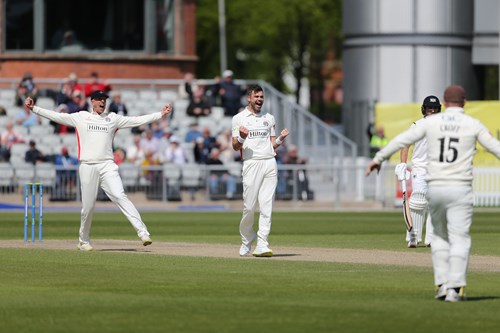 He was surprisingly left out of a Test tour to the Caribbean in early 2022, but he quickly regained his place and has renewed vigour under the leadership of Test coach and captain Brendon McCullum and Ben Stokes.
In 2017, Lancashire honoured Anderson by renaming the Pavilion End of Emirates Old Trafford The James Anderson End.
His mastery of swing and seam bowling has seen him be ranked as the number one Test bowler in the world.
He is a four-time Ashes winner, the first of which coincided with him being named as one of Wisden's Cricketers of the Year in 2009. 
He also won the County Championship title with the Red Rose in 2011. Despite all of his achievements in international cricket, it remains one of Jimmy's proudest moments.
Anderson debuted for Lancashire in 2001. He went on to take 50 first-class wickets in his first full domestic campaign the following summer, including nine in a landslide Championship win over Somerset at Blackpool.
That form earned the then 20-year-old a place on an England Academy (now known as Performance Programme) winter tour to Australia. And, after a few injuries in the main England party, he was awarded his ODI debut against Australia at Melbourne that December.
Less than four months earlier, he had been playing Lancashire League cricket for Burnley.
Jimmy - the Burnley Express - subsequently gained a place in England's 2003 World Cup (50-overs) squad, and he took a stunning 4-29 against Pakistan at Cape Town during that campaign. He has since featured at World Cups in 2007, 2011 and 2015.
He was awarded a first England central contract shortly after taking five wickets on Test debut against Zimbabwe at Lord's in the summer of 2003, also adding to his growing reputation with an ODI hat-trick against South Africa.
In 2004, Anderson took 10 wickets in a first-class match for the first time - for Lancashire against Worcestershire.
His early career was beset by injury issues. Just think how many wickets he would have taken had, for example, he not suffered a back stress fracture to ruin 2006! 
He won the Ashes in 2009 and claimed a series high 24 wickets in the 2010/11 success Down Under - England's first away Ashes success in 24 years.
The summer to follow, he claimed 21 wickets and terrorised India as England became the number one Test team in the world. In between that, he played two Championship matches as Lancashire won the title and picked up his winner's medal from Prince Philip at Buckingham Palace.
Not only is Anderson England's leading Test wicket-taker, he is also top of their list in all international cricket and was part of further Ashes successes in 2013 and 2015.
At the end of 2020, he was named in the ICC's Test Team of the Decade as voted for by a specialist panel combined with the results of an international public vote.
His 1,000th first-class wicket - against Kent in 2021 - came as part of a career best haul of 7-19. 
He is also a co-host of the BBC Tailenders Podcast with Greg James amongst others.