Hilton Garden Inn extension officially launched at Emirates Old Trafford
Emirates Old Trafford's Hilton Garden Inn extension was officially launched on Monday evening by Lancashire and England's James Anderson OBE.
Anderson was joined in the expanded four-star Hilton Garden Inn by over 120 special guests including a number of high profile former and current Lancashire and England players, Club partners, and representatives from the wider Trafford and Greater Manchester area and business community.
The new hotel extension has increased the overall capacity to 250 premium bedrooms, including a new top floor of suites. The facility includes two outdoor terraces, and a restaurant and event space – The Edge – which was unveiled during the Ashes Test at Emirates Old Trafford in July – and was open for Members during Lancashire's home County Championship matches from July until the end of the season.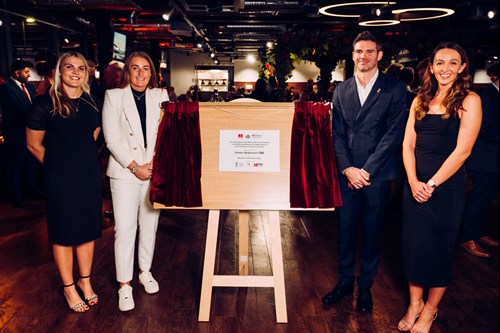 On the top floor, seven premium suites overlook Emirates Old Trafford and have been named in honour of Lancashire legends, past and present, who have all made a significant impact on the international stage and to date have won just shy of 1,200 international caps between them. Each suite has a unique look and feel in honour of the player whose name is adorned above the door, as the Club highlights the outstanding achievements of Wasim Akram, Michael Atherton OBE, Kate Cross, Sophie Ecclestone, Neil Fairbrother, Farokh Engineer and Sir Clive Lloyd.
The event saw the unveiling of a plaque to recognise the completion of the new facility, the culmination of a £75m investment over 15 years and a regeneration and transformation process that has reinvented the stadium into one of the leading multi-purpose venues in the world.
Last Thursday, the Hilton Garden Inn extension was awarded the 2023 Best Development or New Facility (over £500k) at the annual Business of Cricket Awards in Bristol.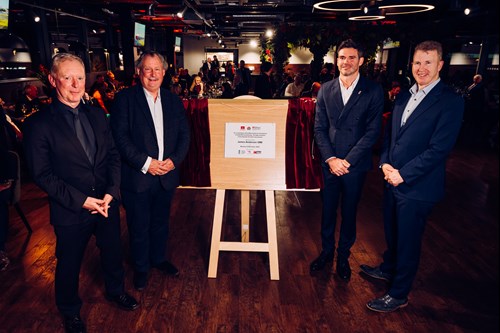 Andy Anson OBE, Lancashire Cricket's Chair, added: "We were thrilled to open our Hilton Garden Inn extension officially on Monday evening and to welcome so many of the Club's stakeholders to Emirates Old Trafford. It was great that England's best-ever bowler, James Anderson was present to unveil our new plaque celebrating the new world class facility.
"The project – which completes the £75 million redevelopment at Emirates Old Trafford over the last 15 years - is the culmination of the Club's diversification strategy to create a multi-purpose stadium where all profits can be invested back into cricket.
"I would like to thank the ECB, Trafford Council, Metro Bank, Hilton, Sports Breaks and Corinthian for their continued support, as well as the North-West based Eric Wright group – our construction partner - who have delivered a fantastic final product ahead of schedule."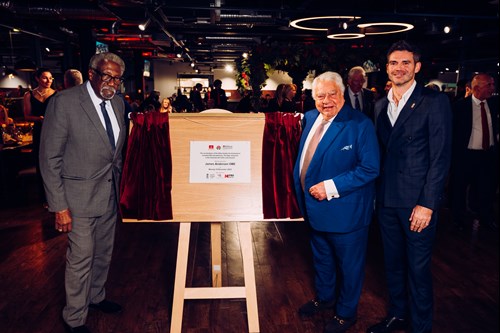 Wasim Akram said: "This is a massive honour for me. Lancashire has been, and still is, a huge part of my life and I hold the Club close to my heart.
"I am honoured that The Wasim Akram Suite will be located in the new hotel extension at Emirates Old Trafford, a stadium which means so much to me and to my family.
"I plan to visit Manchester next summer and it will be amazing to see my suite in person and to catch up with lots of old friends that I still have at Lancashire."
 The new rooms and suites in the Hilton Garden Inn at Emirates Old Trafford are now officially open for business. Find out more and book your stay now, by visiting: https://www.hilton.com/en/hotels/manesgi-hilton-garden-inn-manchester-emirates-old-trafford/