Lancashire Cricket celebrates Black History Month: Part 4
This October, Lancashire Cricket is celebrating Black History Month in the UK. This national celebration aims to promote and celebrate Black contributions to British society, and to foster an understanding of Black history in general.
At Lancashire Cricket, we aim to empower and inspire our future generation of cricketers by celebrating those who led the way during our past.
Up next, we have former Red Rose captain and current Board Member, John Abrahams...
John Abrahams. Captain Fantastic!
Lancashire can lay claim to being the Kings of One-Day Cricket in England on two occasions.
The first was from 1969 to 1975 when the Red Rose county won six one-day titles, including a quartet of Gillette Cup triumphs. The second was more prolonged, with Lancashire winning 11 titles between 1984 and 1999.
Absolutely no doubt about it, Abrahams played a starring role in setting the ball rolling for that second wave of Lancashire domination.
In the 1984 Benson and Hedges Cup final win over Warwickshire at Lord's, South African-born Abrahams won the player-of-the-match award. Remarkably, the prolific batter scored a three-ball duck and took only one catch in the match.
But he will be forever known as the player who won what was officially called the Gold Award for his captaincy alone.
Warwickshire were bowled out for 139 well inside their 55 overs having been inserted on a damp pitch, the Bears slipping from a position of significant health at 104-2. They lost eight wickets for 37, with Paul Allott's 3-15 from 8.4 overs the pick of the figures.
When Abrahams fell, Lancashire were 71-4. But David Hughes and Neil Fairbrother saw them home with an unbroken stand of 69, Hughes 35 not and Fairbrother unbeaten on 36.
Abrahams - a particularly exceptional fielder - not only lifted the trophy, but he was honoured personally by Gold Award adjudicator Peter May, England's chair of selectors at the time, who said Abraham's "overall control of the team" had been outstanding.
Following his playing days, Abrahams picked out that day as the most memorable day of his career and said of his player-of-the-match award: "A big surprise and a great way to finish an excellent game."
He expanded: "Having captained for part of the 1983 season in Clive Lloyd's absence (international duty), this was my first year as official full time captain.
"We were a young side with three experienced senior players, and one of our strengths was the high standard of fielding, which had also contributed to previous successes."
While that was the standout day for Abrahams, who went on to have a successful coaching career, including with the England Under 19s and with Shropshire in Minor Counties cricket, his contributions to Lancashire were hugely significant.
He scored 9,980 first-class runs for the Red Rose from 251 matches between 1973 and 1988, including 14 centuries with a best of 201 not out. He also played 212 List A matches over the same period, scoring 3,580 runs with one hundred.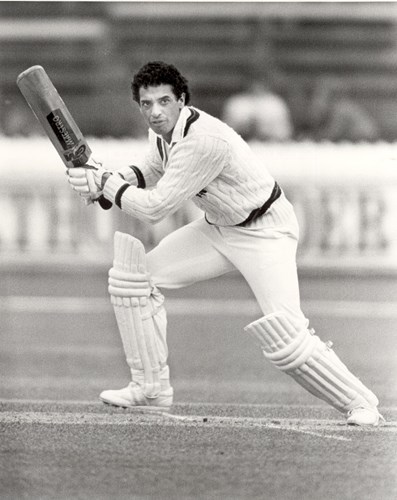 Abrahams was born in Cape Town into a cricket mad family. His father Cec played provincial cricket in South Africa and was selected for the non-white South Africa team in the Apartheid era. On a tour of East Africa in 1958, he played under Basil D'Oliveira's captaincy and impressed with the bat.
Abrahams senior was offered the role as professional for Milnrow in the Central Lancashire League in 1961, with John, aged 10, and the rest of the family following a year later. It started John's love affair with Lancashire life and cricket within the county.
Milnrow was where Abrahams junior started playing in England, and he was educated at Heywood Grammar.
Following his playing career, Abrahams enjoyed continued success.
He worked for the ECB as manager of the national age-group set-up and coached the England Under 19s team which won the 1998 World Cup in South Africa, ironically. Owais Shah captained that side, current England managing director of cricket Rob Key was in it, so too Graeme Swann and former Red Rose all-rounder Chris Schofield.
Abrahams, who had previously done some "heart-warming" coaching in disability cricket, again took charge of England's Under 19s in 2009 and 2010 when England's team included Joe Root, Ben Stokes and now Lancashire star Jos Buttler.
On and off the field, Abrahams' influence on Lancashire Cricket has been immense, and he remains a popular figure around Emirates Old Trafford, where he is on the board as a non-executive member.
To find out more about Lancashire Cricket's EDI journey and strategy, click here.