Luke Wells signs new three-year deal
Lancashire Cricket is delighted to announce that Luke Wells has signed a new three-year contract with the Club.
The 32-year-old has put pen-to-paper on an extended deal at Emirates Old Trafford that will run until at least the end of the 2026 season.
Wells has become a key performer in all three formats since joining from Sussex ahead of the 2021 season, combining his powerful top order batting role with leg-spin bowling.
In all cricket for Lancashire, Wells has made a total of 89 appearances - scoring 3,256 runs across all formats added to 58 wickets.
He averages 41.45 with the bat in First-Class cricket for the Red Rose – passing 10,000 First-Class career runs in September - and has also developed into a key all-round performer in white ball cricket.  
Wells received his Lancashire County Cap at the 2022 End of Season Awards at Emirates Old Trafford and has since taken on a senior role within the Club's leadership group.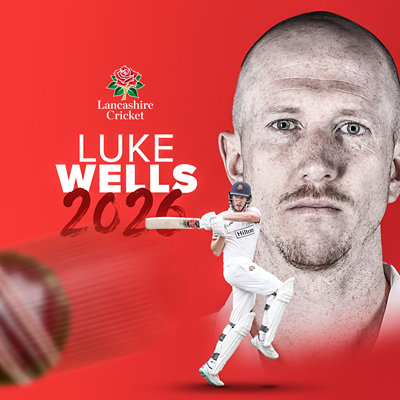 Speaking about his new contract, Luke Wells, said: "I'm really pleased to have been able to put pen-to-paper on a new deal. I've loved it here ever since I first stepped through the door; arriving at Emirates Old Trafford has felt like a brand-new lease of life for my career.
"I've had three amazing seasons here so far, stepping into a new environment with fresh eyes on me and I feel like I've been able to progress really well, especially in the white ball game, and develop different aspects of my game such as my bowling.
"I'm very excited to be here for at least the next three years to give myself that foundation to keep getting better and ultimately putting in performances that can help lead to our ultimate aim of success for Lancashire."
Wells joins Josh Bohannon and Tom Bailey who have both signed new contracts this winter until 2026 as a number of key performers commit their futures to the Red Rose during the off season.
Director of Cricket Performance, Mark Chilton, commented on the news: "Luke has made an enormous contribution to Lancashire Cricket since joining the Club in 2021 and we are really pleased that he has signed this new contract and committed his future to us for at least three more seasons.
"We were well aware of Luke's excellent First-Class record when he joined us from Sussex but his performances across all three of the formats have been excellent, and he has worked really hard on improving his bowling which has added an extra dimension to his game and to our attack.
"Alongside Keaton and the other leaders within our squad, Luke plays a key role in setting the standards on a day-to-day basis as well as working with our younger players to pass on his experiences and to help them improve as cricketers."
Watch an interview with Luke Wells after signing his new contract with the Club.